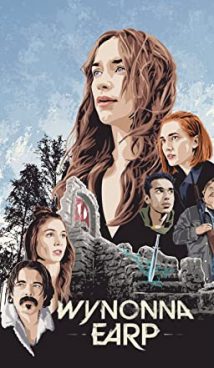 Synopsis
Wynonna is the great-great-granddaughter of Wyatt Earp, a famous guardian of the law at the turn of the 20th century. As an inheritance, the girl gets a family curse and now has to return the souls of 77 criminals once killed by her great-great-grandfather to hell. Each time an heir of Earp is born, these criminals are resurrected and threaten the entire family. Sixteen years ago, seven of them killed Wynonna's father and older sister, and now our heroine has become the matriarch of the Earp family. However, in matters of supernatural justice, she is not alone. A mysterious squad called the Black Badge, Waverly's younger sister, and the immortal partner of her great-grandfather, the mustachioed shooter Doc Holliday are helping her.
Interesting Facts
A year ago, there were rumors on the Internet that the TV-series was canceled and there would be no fourth season. Wynonna Earp fans launched a media campaign to support the show, and lead actress Melanie Scrofano rented a billboard in New York to promote the TV-series. The support had an effect and the premiere of the new season has already taken place. However, what happens next is still unknown.
In the real world, the legendary shooter Wyatt Earp had no children.
Spells chanted by some characters are in Hungarian and Romanian languages (but with many grammatical errors).
Wynonna Earp was filmed in Canada. One of the filming locations was in Calgary, famous for the 1988 Olympics.
Wyatt Earp is a truly legendary figure in the United States. He has traveled all over North America, sometimes fighting crime, and sometimes being an outlaw himself. As a character, Earp appeared in dozens of movies and TV-series, as well as several novels.
Information
This is an American-Canadian-made fantasy western TV-series based on Bo Smith's comics.
The premiere of the fourth season took place on July 26, 2020 on the SyFy channel.
More Like This
Motherland: Fort Salem
Van Helsing
Midnight, Texas