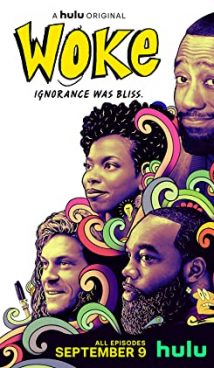 Synopsis
Keith Knight is a talented graphic novelist whose career is booming. Black-skinned Keith prides himself on not talking about African American issues in his most popular comic book series. But once on the street, the police almost detained Keith, and this happened because of his skin color. Although he managed to get out of trouble, Keith was injured, and now different subjects begin to talk to him on different social and political topics. Now, the artist can see the things that he ignored earlier. Keith will have to make a choice – whether his comics will be as neutral to racism as before or not.
Interesting Facts
The "Woke" Season 1 premiered on September 9, 2020 on the "Hulu" streaming platform. From that day on, all 8 episodes were immediately available for viewing.
Keith Knight, who gave the main character not only the details of his life, but also his name, is one of the authors of the TV series. The "Woke" is an adaptation of "The K Chronicles", an autobiographical comic book series by Keith Knight released in the mid-1990s. Since then, the author has received numerous awards from the graphic novel community.
Lamorne Morris, who is well known to viewers as Winston Bishop, one of the main characters in the "New Girl" successful television sitcom, starred in the "Woke". Appearing in the second episode of "New Girl", Lamorne stayed on the sitcom until the finale. It is noteworthy that he replaced Damon Wayans Jr., who played this role in the first episode and then left the project. The producers decided to invite Lamorne, but in the end they replaced not the actor, but the character – Damon's hero moved out of the apartment, and Winston (Morris) took his room.
About
The "Woke" is an American-made social comedy television series. The first season premiered on September 9, 2020 on the Hulu streaming platform.
Related Shows
Sneakerheads
Dummy
I May Destroy You
Tags: racism, comic book writer, artist, USA