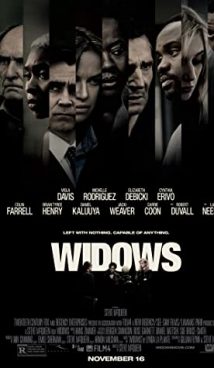 English, Spanish, Polish

6.9
Synopsis
Four hijackers who tried to commit a robbery are killed at the scene. Jamal Manning, the criminal tycoon and boss of the dead gang members, is demanding two million dollars, not from the perpetrators, but now from their widows. Four strong women led by the determined Veronica (Viola Davis), now have to crank up an extremely dangerous enterprise and get that money relying on a plan developed by their dead husbands.
Interesting Facts
The "Widows" film was unveiled to the public on September 8, 2018 at the Toronto Film Festival – however, it was not released widely until two months later. Since 2019, the film has been made available for viewing on streaming services.
"Widows" is based on the British television series of the same name which aired on television in 1983-85, as well as its American remake filmed in the United States in 2002. Hans Zimmer, the composer who wrote the theme song for the film, previously worked on a British television series as an assistant composer.
Gillian Flynn, the author of "Gone Girl", the bestselling hit that was adapted by David Fincher, is also co-wrote "Widows". In recent years active in television and cinema, Flynn has produced a remake of the "Utopia", British television series. The new version of "Utopia" was premiered in the fall of 2020 on the Amazon streaming service. Flynn is the showrunner for the project.
Jennifer Lawrence, the actress who was originally supposed to play Alice, left the project due to her busy schedule. As a result, she was replaced by Elizabeth Debicki, a very promising actress. Elizabeth is best known for her role in Nolan's film "Tenet" and she will be Princess Diana herself in "The Crown" TV series.
Cynthia Erivo, singer and Broadway star, made her film debut in "Widows". The acting debut was successful for the singer: since then, Cynthia has appeared in many films and TV series, and in 2019 she was nominated for two Oscars at once.
About
Widows is a co-production film based on the crime thriller series of the same name. The world premiere of the movie took place on September 8, 2018 at the Toronto International Film Festival.
Related Films
The Girl in the Spider's Web
12 Years a Slave
Fences
Tags: drama, crime, robbery, TV series adaptation, Cynthia Erivo, Elizabeth Debicki