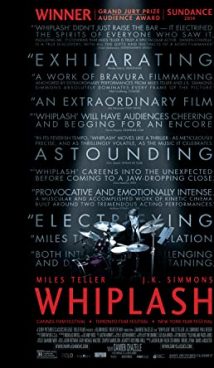 Synopsis
The talented young drummer Andrew, who is still studying at the conservatory, enters the orchestra with Terence Fletcher. The talent of this famous musician is comparable only to his own ruthlessness. The conductor is confident that you cannot achieve success if you are praised. So, two personalities collide, a cruel teacher and a young musician, whose future lies ahead, if, of course, he can survive all Fletcher's lessons.
Interesting Facts
The young director presented Whiplash on January 16, 2014 at the Sundance Independent Film Festival, earning two awards at once — the Grand Jury Prize and the Audience Award. For almost the entire year, Whiplash was shown at various film festivals (and got almost a hundred awards!), until the film was released worldwide in October.
Actor J.K.Simmons received a Golden Globe, BAFTA, Oscar, and 44 other film awards for his role.
Whiplash had an interesting path to the viewer. Damien Chazelle had previously directed only one feature-length film, Guy and Madeline on a Park Bench, where the director's friends played the lead roles. After moving to Los Angeles, Chazelle wrote the script for an almost autobiographical film about the drummer (Damien himself learned to play drums in high school). Eventually, the producers became interested in the story and asked Chazelle to film a sample — one scene from the script — and see how the viewers reacted. In 2013, this short film was shown at Sundance, which was praised by critics. The director received three million dollars to film and came back a year later with the complete film, which later would become a sensation.
Interestingly, the first versions of the script for Whiplash were in the genre of psychological thriller.
Whiplash opened the door for Damien Chazelle to the top of popular cinema. Two years after his professional debut, the director returned with La-la Land, which won six Oscars. Now Chazelle is working on a new film called Babylon about Hollywood in the 1920s.
Information
This is an American musical drama film.
The world premiere of Whiplash took place on January 16, 2014 at the Sundance Film Festival.
More Like This
Tags: music, drama, testing, training, drummer, New York, Damien Chazelle