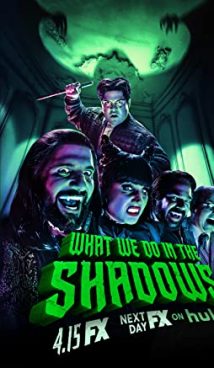 Synopsis
The theme of vampires has no pauses in movies and on TV. From the time of silent cinema to the era of millions of blockbusters, producers and directors concoct new stories about ghouls, but most of them do not deserve our attention. However, this does not relate to the New Zealander Taika Waititi, who managed to release a very inexpensive black comedy named What We Do in the Shadows in 2014. Waititi got to the Academy Awards and Hollywood, and five years later we got a remake in the form of a series.
What We Do in the Shadows is a pseudo-documentary immersion in the life of bloodsuckers living in the same house. We can see here characters as follows: the former Janissary, the gypsy, and the original vampire. They have to somehow get along with their neighbors as well as with the surrounding normal world.
The series preserves the spirit of the popular full-length original film expanding the universe, and still remains hilarious.
Interesting facts
The success of the film opened the path to Hollywood for Taika Waititi and made him one of the most successful young directors in the world. There is already one Oscar on his career path (for the Jojo Rabbit script). His plans include a new movie comic about Thor, a reload of the classic Time Bandits and Flash Gordon, as well as a film from the Star Wars Universe.
The producers promise some funny cameos in the second season. For example, we will see Haley Joel Osment, the same boy from The Sixth Sense who sees the dead.
The co-author of the series is Jemaine Clement, who played a role of vampire Vladislav in the original film.
Information
The American-made TV series is based on the black comedy movie What We Do in the Shadows.
The second season premiered on April 15, 2020 on the FX channel.
You can watch the series trailer online on the website without registration. You can also find interesting facts about the series and find out the release date in Russia.
FAQ
What channel is producing the series?
American FX TV channel.
When will the second season be released in Russia?
The second season premiered on April 15, 2020.
The creators of the series are still keeping silent about a possible extension.