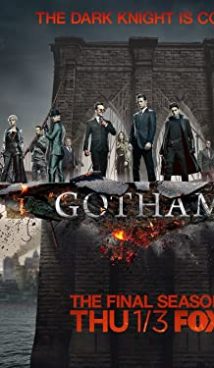 English, Russian, Italian, French

7.9
Synopsis
Gotham is a story about Batman before Batman. After all, only by knowing the background of the Dark Knight, we can understand why and for what reasons he appeared.
The fictional city of Gotham is an insanely dangerous place where corruption, poverty, and neighborhoods are divided between criminal gangs. However, at the same time, Gotham is a majestic city with stunning architecture and unusual people.
The city's police cannot cope with the influx of crime, but everything changes with the arrival of James Gordon, who is an idealistic policeman and who does not make deals with his conscience. He is the one who, without knowing it, will inspire Batman in the future.
Interesting Facts
The first episode of Gotham was shown on Fox in September 2014. The following seasons came out annually until April 24, 2019, when the last hundredth episode, called The Beginning…, was released, leading directly to the Batman's appearance.
For five seasons, the viewers of the Gotham TV-series got acquainted with practically all the enemies and associates of Batman. Some of them, like, Catwoman, Penguin, and the Riddler, will become the main characters of the series, but some, like, Robin, will only be hinted at.
Fish Mooney, who is the villainess in the first seasons of Gotham, was written for the TV-series and initially did not appear in the comics.
Information
This is an American-made fiction thriller TV-series based on the DC comic series.
The premiere of the first season took place on September 22, 2014, on the American TV-channel Fox.
More Like This
Agents of S.H.I.E.L.D
The Flash
Legends of Tomorrow
Arrow
Tags: comics, Batman, Catwoman, origin, villainsm superheroes, fantasy, Pinguin, drama, criminal