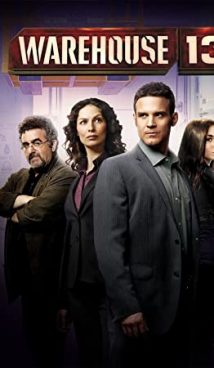 Synopsis
Pete Lattimer and Myka Bering, agents of the US Secret Service, unexpectedly received a very unusual assignment – now they are assigned to the so-called 'Warehouse 13', a warehouse with incredible artifacts that have properties that cannot be explained by official science.
Artie Nielsen, a former NSA official who is now a storekeeper, is Pete and Myka's new boss. They have joined forces to protect these strange items, as there are those who dream of replenishing their collection with some strange artifact.
Interesting Facts
A pilot episode of the television series was aired on July 7, 2009 on the US channel Syfy. Renewed four times, the TV show was canceled following the release of the final episode entitled "Endless" on May 19, 2014.
TV producer Jane Espenson, one of the showrunners of "Warehouse 13", after the final of the TV show worked on other fiction TV projects – "Once Upon a Time" and "Jessica Jones". "The Nevers", a television series about a team of Victorian ladies fighting evil, will be her next project. This potential hit, which is co-developing with Joss Whedon, the director of two "Avengers" blockbusters, will be released in 2021 on HBO.
About
Warehouse 13 is a US-Canadian fantasy detective TV series. The first season of the TV show was premiered on July 7, 2009 on Syfy.
Related Shows
Eureka
Heroes
Haven
Continuum
Fringe
The Librarians
Tags: fantasy, adventure, artifacts, riddles, mysteries, detective, comedy, agents