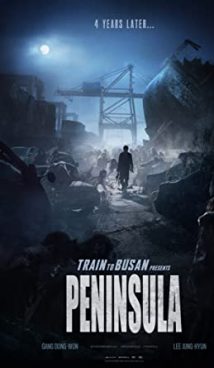 Synopsis
The film takes place in Korea filled with hordes of zombies after 4 years. Now, the walking dead which could not be exterminated represent a danger to the whole world. Han Jong-sok, a retired marine captain, was able to escape from the peninsula at the time of the outbreak of a dangerous virus that turns people into zombies. He moved to Hong Kong to reunite with the surviving members of his family. Han gives his consent to participate in a special operation to find a truck with $ 20 million in cash, which is located in very dangerous Korea. Once in the insecurity zone, the main character finds that in addition to the walking dead, there are those who managed to survive. While some of the survivors struggle to hide, others have fierce battles in the arena. The team is faced with a difficult task – beware of both the dead and the living, they need to collect the money and return to Hong Kong.
Interesting Facts
The Train to Busan, the first film in the series, was so successful that the story was further developed into the "Seoul Station" animated film, which is a prequel. In addition, it was revealed that New Line Cinema, an American film studio, has acquired the rights to the English-language remake of "Train to Busan". Presumably, the project will be led by James Wang, who directed all parts of The Conjuring, Fast and Furious and The Insidious.
Train to Busan 2 was supposed to premiere at the Cannes Film Festival in May 2020 – however, the event was canceled due to the coronavirus epidemic. The film was released on July 15, 2020 in South Korea. In other countries, the film began to be shown as cinemas opened.
The sequel does not include the characters from the first part. The Train to Busan 2 is a new story about South Korea infected with a dangerous virus.
About
The Train to Busan 2 is a South Korean-produced sci-fi thriller. The world premiere took place on July 15, 2020 in South Korea.
Related Films
Train to Busan
Snowpiercer
Carrie