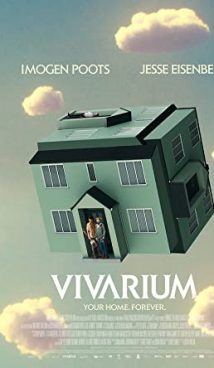 Synopsis
A young married couple Tom (Jesse Eisenberg) and Gemma (Imogen Poots) are trying to find a home they can afford. They notice an ad for a cottage community called Yonder and decide to watch it live. Tom and Gemma arrive and see hundreds of identical houses, but the path leads them to the cottage number 9, where Agent Martin is already waiting for them. Martin shows the house and disappears. The couple also decide to go home, but Yonder turns out to be much larger than they had thought. They wander among the identical houses for a long time and finally decide to spend the night in the cottage number 9. In the morning they realize that they are trapped in a strange matrix where they will be stuck for many years.
Interesting Facts
Lorcan Finnegan, the director of the film, made Vivarium based on his own story. Lorcan said he was inspired by the documentary series The Life of Birds when creating the film. The director was especially amazed by the story of how cuckoos dump off their eggs to other birds' nests. Also artistically, Vivarium was influenced by the work of the Belgian surrealist artist Rene Magritte.
Vivarium was presented to the public on May 18, 2019, in Cannes. It even was among the nominees for the main prize of the film festival. Then, for a whole year, the film was shown at various film festivals, until there was the online premiere in March 2020.
In 2021, the actors who portrayed the main characters in Vivarium will get into screen adaptation of the comics — Jesse Eisenberg will return to the role of the villain Lex Luthor in Zack Snyder's Justice League, and Imogen Poots will appear in the TV-series Y: The Last Man which is filming now. The latter is based on the popular graphic novel of the same name.
Information
This is a joint-production sci-fi drama film based on the Lorcan Finnegan's novel.
The world premiere of Vivarium took place on May 18, 2019 at the Cannes International Film Festival.
More Like This
Midsommar
Us
The Bothersome Man
The Double
Tags: foundling, surrealism, drama, experiment, eternity, matrix