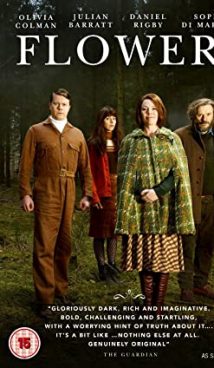 Synopsis
The TV show focuses on the crazy Flowers family living in a pretty, but dilapidated house on the edge of the forest. Deborah (Olivia Colman), a music teacher, and her husband, Maurice (Julian Barratt), a children's writer, have two adult – and not very stable – children named Donald and Amy. In addition, the mother-in-law and the illustrator from Japan live with her family under the same roof. Obviously, we are dealing with a very absurd and very British black comedy, which is still capable of delivering incredibly funny jokes at times.
While every character on the TV show slowly goes crazy, the degree of insanity gets higher and higher with each new episode.
Interesting Facts
The first episode of the TV show aired on April 25, 2016 on Channel 4. All six episodes of Season 1 were released within a week. The second season of the TV show premiered two years later.
Olivia Colman, a wonderful British actress who is perfectly suited to both comedic and dramatic roles, is the lead actress on the "Flowers" TV show. Remarkably, Colman has won three Golden Globe Awards and one Oscar. After the first season of the TV show premiered, it was revealed that Olivia would play Queen Elizabeth II in the third and fourth seasons of the "Crown". Brilliantly coped with this role, Colman won the Golden Globe.
Will Sharpe, the showrunner of the TV series, is also an illustrator. "Landscapers", a four-part TV show based on a true story, will be Sharpe's new project. The couple who killed their parents and buried them in the backyard are at the center of the plot of the new television series starring Olivia Colman. So, we look forward to another great black comedy.
About
Flowers is a British-made tragicomedy TV series. The first season of the TV show premiered on 25 April 2016 on UK Channel 4.
Related Shows
Fleabag
Mr. Sloane
The Mighty Boosh
Tags: dramedy, black comedy, UK, mad family, Olivia Colman