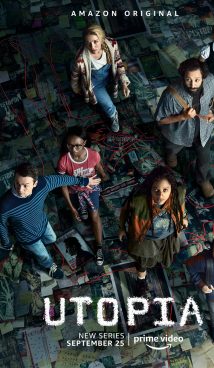 Synopsis
A forbidden paper graphic novel in which dangerous information is encrypted falls into the hands of infantile young people. They are not even able to understand how valuable the artifact they now possess is. Young people have to hide from members of a secret organization who are persecuting them. Jessica Hyde, a strange girl, comes to the aid of the main characters. Against their will, they become participants in a very dangerous and bloody game.
Interesting Facts
The Utopia is an American remake of a British television series that aired on Channel 4 in 2013-2014. The original TV series has two seasons of six episodes – and almost immediately rumors of a possible remake for HBO began to circulate. David Fincher, the famous filmmaker, was supposed to start work on the project. Having hired Rooney Mara for the role of Jessica Hyde, Fincher requested $ 100 million to shoot the first season. As HBO bosses considered this budget too large, the project was scrapped. However, in 2018, the Amazon streaming service took over work on a remake of The Utopia.
Gillian Flynn, a writer who found herself in the film industry, is the showrunner of the project. As the author of Gone Girl, she turned it into a screenplay that earned her an Academy Award. In 2018, Gillian produced The Sharp Objects, another project based on the novel of her own, and was nominated for an Emmy. She is now the showrunner for The Utopia which is also scripted by Gillian.
The series will premiere on September 25, 2020 on the Amazon streaming platform. All episodes of the first season will be immediately available for viewing to the service subscribers.
About
The Utopia is an American-made television series based on the British TV show of the same name in the thriller genre. The first season will premiere on September 25, 2020 via Amazon Prime.
Related Shows
The Utopia (UK TV series)
Hunters
Lovecraft Country