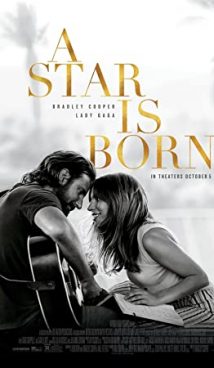 Synopsis
A Star Is Born tells a dramatic story of talent, love and addiction.
After Ellie, the singing waitress, and Jackson Maine, the world-famous musician, met in a bar, their lives changed dramatically. Jackson gave a boost to Ellie's career, making her a real star. But the two musicians are united not only by a parallel career – they love each other. So, will feelings be able to keep two people together where contracts, royalties and producers are at the fore?
Interesting Facts
A Star Is Born premiered on August 31, 2018 at the Venice Film Festival, where Brady Cooper received one of the awards. The digital premiere of the motion picture on streaming services took place on January 16, 2019.
A Star Is Born is not Lady Gaga's cinematic debut. Previously starred in "Machete Kills" and "Sin City 2", as well as two seasons of "American Horror Story", she already has acting experience. It is noteworthy that for her participation in the "American Horror Story" television series Lady Gaga received a Golden Globe Award. In the fall of 2020, rumors surfaced that Lady Gaga would enter the Marvel Cinematic Universe and play the role of Emma Frost, one of the most powerful X-Men character. Whether the singer will try on a superhero or supervillain costume – according to the comics, her image has evolved from an enemy of Team X to its leader – is still unknown. According to another rumor, Lady Gaga will voice the otter Leela from the Guardians of the Galaxy team. It is noteworthy that – according to the comics – Leela is the beloved of a raccoon voiced by Bradley Cooper.
Received eight Academy Award nominations, this film won only one Oscar statuette – Lady Gaga was awarded for Best Song. The famous singer has been nominated for an Academy Award three times – twice for the best song (the first time – in 2016 for the composition for "The Hunting Ground") and once for the best actress in the "A Star is Born" film.
A Star is Born film is the high-profile directorial debut of Bradley Cooper, the acclaimed actor. His next project will be a biographical motion picture telling the life story of Leonard Bernstein, an outstanding composer and conductor. The film, starring Bradley Cooper himself, will be available for viewing on the Netflix streaming service.
About
A Star Is Born is an American-made musical drama film premiered on August 31, 2018 at the Venice Film Festival.
Related Films
Bohemian Rhapsody
La La Land
Silver Linings Playbook
Tags: music, singers, pop music, concerts, Lady Gaga, Bradley Cooper