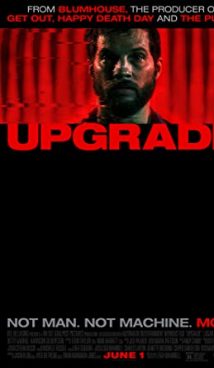 Synopsis
"Upgrade" film will take viewers into the near future. Full of impotent rage, the paralyzed auto mechanic Gray cannot lift even a finger – he and his wife were attacked by four misfits who wounded the protagonist and killed his wife Asha. Gray dreams of revenge – but how he, unable to even move without someone else's help, can make it a reality?
Aaron, a millionaire and former client of Gray, visited the protagonist and invited him to try out the newest implant on himself that would give him back control of his body.
Of course, Gray's first order of business is to take revenge on his wife's killers. However, he soon discovered that the chip had significantly upgraded his body – and now Gray has become a real killing machine.
Interesting Facts
The first screening of the film took place on March 10, 2018 at the South by Southwest Film Festival, where it won the Audience Award. On June 1, the film began its release in the United States. "Upgrade" was made available for viewing on streaming platforms in 2019.
The film was well received by both audiences and critics. As a result, the producers commissioned the filming of a serial sequel to the successful movie. Executive-producing the new project, "Upgrade" director Lee Whannell will direct at least a few episodes of the new television series. He is currently working on script writing.
Logan Marshall-Green, the lead actor in the film, is best known for the likes of "Quarry" and "Damnation". He also directed "Watch the Road" (2019) starring Ethan Hawke. "Shadow Game", a television series about post-war Berlin, is Marshall-Green's next acting project.
About
Upgrade is an Australian-American co-production film in fantasy thriller genre. The world premiere of the movie took place on March 10, 2018 at the South by Southwest Film Festival.
Related Films
Ex machina
Ready Player One
Saw
Venom
Tags: near future, paralyzed, revenge, implant