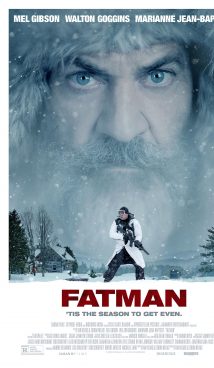 Synopsis
This winter, an unusual Santa Claus (Mel Gibson) will appear on the big screens – a bearded man tired of life with aggressive deer, eternally floundering sleighs and strange elves. Cooperating with the US Armed Forces, he also supplies weapons. So, it's easy to guess that Santa treats his direct duties carelessly. Absent-minded, Santa Claus left a very unpleasant 12-year-old boy Billy with a piece of coal instead of a gift. An angry teenager hires a hitman to track down and finish off a bearded fat man. So, Santa's already difficult life turns into a bloody battle.
Interesting Facts
The Fatman will premiere on November 13, 2020 and will be shown in multiple US theaters. The digital release of the film will take place a week after the premiere.
Mel Gibson, a true titan of Hollywood, not only starred in films, but also acts as a director. The Hacksaw Ridge, Gibson's previous work, was nominated for an Academy Award for Best Director. Mel is now preparing to shoot The Wild Bunch, a remake of the 1969 film of the same name, which is a Hollywood classic about the Wild West. In addition, Gibson is writing the sequel to The Passion of the Christ, which James Caviezel, who portrays Jesus, has described as "the greatest movie in cinema history".
The Boss Level is a sci-fi film in which Mel Gibson will once again showcase his acting skills. Telling the story of a veteran special forces soldier caught in a time loop, the movie has already been filmed and is waiting for its premiere, which is constantly postponed.
About
The Fatman is a co-production comedy thriller. The world premiere of the movie will take place on November 13, 2020.
Related Films
Tags: Santa Claus, black comedy, action, thriller, shootouts, hitman, revenge, bad gift