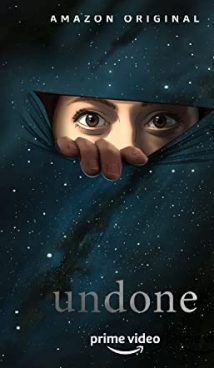 Synopsis
Looking at the sidewalk on which stood a man strikingly similar to her deceased father, Alma gets into a car accident. Waking up in a hospital ward, Alma sees her father next to her. And he is not a figment of her imagination: the father told the girl that he had returned to tell her something and teach Alma to travel in time. Now, the girl's previously boring life becomes an endless phantasmagoric trip.
Interesting Facts
The "Undone" animated series premiered on September 13, 2019 on the Amazon Prime streaming platform, with all episodes immediately available for viewing. Highly acclaimed by viewers and critics alike, the new psychological drama animated series has been renewed for a second season. However, the date of the Season 2 premiere is still unknown.
Created in a very unpopular nowadays technique of photo-transposition – animators themselves frame-by-frame redraw images shot on film – this animated series is unique for our time. Popular in the 1950s, this technique was used to create a number of cartoons. Since the projection of frames onto paper is done using a rotoscope, this technique was called rotoscoping.
Notably, A Scanner Darkly, a 2006 film by Richard Linklater starring Keanu Reeves, Winona Ryder, and Robert Downey Jr., was also created using rotoscoping techniques. It is also often used in blockbuster films – to portray Gollum from "The Lord of the Rings" and the raccoon Rocket from "Guardians of the Galaxy".
Rosa Salazar, the leading actress, is already used to the animated modifications of her body – she played the role of Alita in the film of the same name by Robert Rodriguez. To increase the likeness of the actress to the manga character, the cartoonists made her eyes larger.
Bob Odenkirk, an actor known for his roles in "Breaking Bad" and "Better Call Saul", the cult TV series, played the role of the main character's father.
About
Undone is an American-made fantasy drama animated series. The first season of the TV show was premiered on September 13, 2019 on the Amazon Prime streaming service.
Related Shows
Upload
Tales from the Loop
Love, Death & Robots
Tags: animation, rotoscoping, time travel, drama, family, death, fantasy