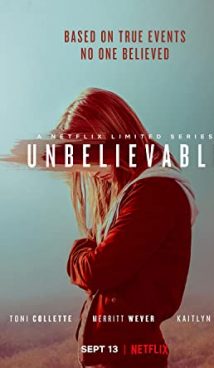 Synopsis
In 2008, Marie Adler, a girl with a very difficult fate, turns to the police with a statement that she has been sexually abused. Started the investigation, the guards of the law suspected that the girl had lied to them. The police not only force Marie to declare that her story of rape is a lie, but also then sue the girl for libel.
A few years later, the neighborhood of Denver is rocked by a series of rapes, in which two female detectives took up the investigation. Deeper into the study of the case, they went to Mary, whose testimony will help detectives catch a serial rapist.
Interesting Facts
All episodes of the "Unbelievable" TV series were released on September 13, 2019 on the Netflix streaming platform.
A major event in the television industry, the TV show has been nominated for four Emmy and Golden Globe awards.
"The Incredible Rape Story" by Christian Miller and Ken Armstrong was taken as the basis for the plot of the television series. Publishing the material in a number of digital publications, the authors became Pulitzer Prize winners a year later.
Highly acclaimed not only by critics, the TV series has been viewed by 30 million Netflix subscribers.
The role of the raped girl Marie was a breakthrough for the young actress Caitlin Dever. Nominated for a Golden Globe, she has become one of the most promising actresses in television. In 2020, she entered the cast of "Monsterland", a mystical TV show. In the near future, filming will begin on "Breaking," a dramatic miniseries – starring Michael Keaton – about a doctor involved in the opioid trade.
About
Unbelievable is an American-made detective drama television series based on true story. The first season of the TV show premiered on September 13, 2019 on the Netflix streaming platform.
Related Shows
Unorthodox
The Act
When They See Us
Mindhunter
The Handmaid's Tale
Tags: drama, detective, rape, thriller, based on true story