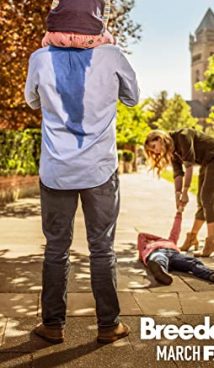 Synopsis
A family comedy about the difficulties of being parents.
Paul (Martin Freeman) and Elly (Daisy Haggard) are completely ordinary modern parents. They have two young children, Luke and Ava, seven and three years old, respectively. Paul and Elly are constantly wondering whether they are good parents. They are not perfect, they sometimes allow themselves to yell at their offspring or joke wickedly, but we have no doubt that their main goal is the happiness of their children.
Breeders series is a full-fledged brainchild of Martin Freeman. He not only plays one of the main roles, but also acts as a producer and author of the script. Martin admits that the plot of the series is very autobiographical and essentially he plays the role of himself. He seemed to retell the stories that happened to him, and embellishes them a little.
 Interesting facts
The great British actor Michael Gambon was originally supposed to play one of the roles, but he had to refuse because of memory problems.
The co-author of the script and one of the producers is Simon Blackwell, who was involved in the cult American satirical series Veep.
Martin Freeman has two children, also a son and daughter, and the age disparity between them is also four years. Their names are Joe and Grace. Martin Freeman has already broken up with their mother, actress Amanda Abbington.
 Information
The American-British TV series shot in the family comedy genre.
The first season premiered on March 2, 2020 on the American FX channel, and then on March 12, 2020 on the British Sky One channel.
You can watch the series trailer online on the website without registration.
 FAQ
What channel is producing the series?
Breeders series was televised on the FX channel in the USA and on the Sky One channel in the UK.
When did the season come out?
The first season was broadcast from March 2, 2020 to April 27, 2020.
The producers of the series have not yet announced the continuation for the second season.
Tags: family comedy, dramedy, parents, children, parenting difficulties, growing up