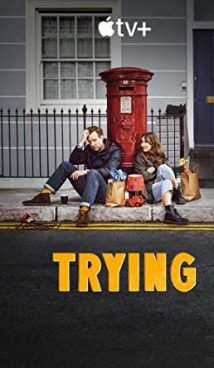 Synopsis
The wonderful couple – Jason (Rafe Spall) and Nikki (Esther Smith) – are the protagonists of this television series. Being happy together, they dream of having a child, but their every attempt is in vain. Ultimately, the idea of ​​adopting a boy or girl came into their heads. However, the British bureaucratic machine is a serious obstacle in their way. Jason and Nikki will have to go through many instances and prove to various commissions – including themselves – that they can become loving and responsible parents.
Trying is a light and very British comedy with cute characters and a special London vibe.
Interesting Facts
Rafe Spall and Esther Smith, the stars of the television series, have crossed paths earlier on the set of Black Mirror TV show in a special episode with the "White Christmas" title.
Imelda Staunton, a wonderful British actress, played the role of a social worker. Formerly known as the creepy Dolores Umbridge from the Harry Potter universe, she will soon play Queen Elizabeth II in the final two seasons of The Crown, the most expensive series in television history.
"Trying" is the Apple Tv Plus and BBC Studios collaboration project. Their next show will be the relaunch of the Walking with the Dinosaurs, cult documentary series.
About
"Trying" is a British tragicomedy television series. The first season premiered on May 1, 2020 on Apple Tv Plus service.
F.A.Q.
Q: What channel is this show on?
A: Filming "Trying" was commissioned by the Apple Tv Plus streaming platform
Q: Will the series be renewed?
A: Two seasons of the television series were approved at once.
Related Shows
Love Life
Upload
Breeders