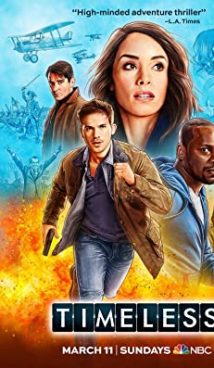 TV-14
01 hours 00 minutes
Synopsis
Timeless TV series shows the world in which the time machine does exist. Garcia Flynn, the villain who stole the time machine, wants to rewrite the whole history, starting with a sabotage that can change the entire XX century.
However, the government finds some people who can resist Flynn. A team was formed, the members of which are the very beautiful Lucy Preston, a history professor, a very pretty Wyatt Logan, a special force operative, and a very smart Rufus Carlin, a software scientist. The three heroes use a different time machine to go back 80 years to the time Garcia Flynn is about to blow up a giant airship.
This is the beginning of the story showed by Timeless. Spectators can expect two seasons of adventure, drama, and chrono travels seasoned with the famous butterfly effect.
Interesting Facts
The "Timeless" television series was released on October 3, 2016 on NBC. Well received by the public, the TV show was canceled after the final episode of Season 1. Curiously, three days later, the producers changed their minds and decided to renew the TV series for Season 2. Released in the spring of 2018, the second season of the TV show was really the last this time.
The names of the main characters on the TV show are a reference to "Bill & Ted's Excellent Adventure", a cult fantasy comedy movie with the main characters named Preston and Logan.
The opening credits of each episode of the TV series contain a hint at what year the main characters will be transferred this time.
About
Timeless is an American-made fantasy thriller TV series. The first season of the TV show was released on October 3, 2016 on NBC.
Related Shows
Supernatural
Continuum
Travelers
Frequency
Colony
Tags: fantasy, drama, action, time travel, adventure