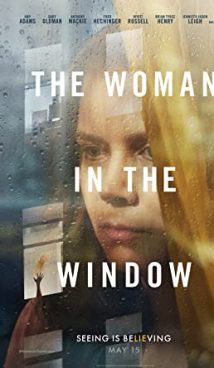 Synopsis
Dr. Anna Fox (Amy Adams) has experienced terrible stress and now suffers from agoraphobia, a fear of open space. She is a real recluse in her New York apartment; she never goes outside. Suddenly, she finds a friend, Jane (Julianne Moore), who lives across the road. Two women become close. One day Anna sees an attack on Jane through her window. She calls the police, but her friend's family denies what happened in every way; then, Anna finds out that Jane is a completely different person. In addition, the police do not trust Anna's words.
Anna, being completely confused, cannot understand what really happened and begins the investigation right from her apartment.
Interesting facts
The magnificent actress Amy Adams was nominated for the Academy Award six times, but did not receive a single statuette. In a kind of anti-record, she is second only to Glenn Close, who has seven nominations without victories.
We can soon see Wyatt Russell and Anthony Mackie together in the superhero series The Falcon and the Winter Soldier. By the way, Wyatt is the son of Kurt Russell and Goldie Hawn. Being a little boy, he starred in Escape from L.A. and Soldier, where his father was the main star.
Information
The American-made film is based on the similarly-named novel by A.J. Finn and shot in the thriller genre.
The premiere was postponed for several times and the studio has not yet announced a new date.
FAQ
Who is the film director?
The Woman in the Window was shot by Joe Wright, who is well known to us from such popular films as: Atonement, Anna Karenina and Hanna.
 Related Movies
Gone Girl
The Girl on the Train
Nocturnal Animals