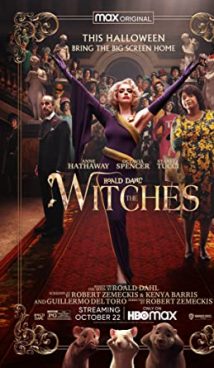 Synopsis
One day, one very curious boy learns that there are witches who want to turn all children into mice. Having fallen into the clutches of evil sorcerers, it becomes a tailed beast. Teaming up with two of the same mice who were previously children, he must get to the kind grandmother and prove to her that he is her grandson, and also return his human appearance.
Interesting Facts
In the US and Canada, "The Witches" released on October 22, 2020 via the HBO Max streaming platform. In other countries, the film premiered on October 29, 2020 in theaters.
Robert Zemeckis, the director of the film, wrote the script with Guillermo del Toro, who is also the producer. Alfonso Cuaron, a wonderful Mexican director, is the second producer of the film. It is noteworthy that both Zemeckis and del Toro are working on different adaptations of "Pinocchio" by Carlo Collodi. While Zemeckis prepares to shoot a live action version of the classic Disney cartoon of 1940, Guillermo del Toro is about to present a very intriguing project – a dark puppet cartoon with a plot carried over to the days of fascist Italy. "Pinocchio" by del Toro will be released in 2021 on the Netflix streaming platform.
The previous "The Witches" film starring Angelica Houston and based on the same book by Roald Dahl was premiered in 1990. It is noteworthy that a year later Angelica performed the role of Morticia Addams. Many wonderful actresses have claimed the role of a witch – Uma Thurman, Kate Winslet, Charlize Theron, Cate Blanchett, Natalie Portman, Angelina Jolie. However, Anne Hathaway ended up playing the role.
Alan Silvestri, a composer who previously worked with Robert Zemeckis and is the author of the soundtracks for "Forest Gump" and "Back to the Future" trilogy, wrote the music for "The Witches".
About
The Witches is a Mexican-American co-production film based on the fantasy novel of the same name by Roald Dahl. The movie premiered on October 22, 2020 on the HBO Max streaming platform.
Related Films
The Witches (1990)
Charlie and the Chocolate Factory
The BFG
Tags: film adaptation, for children, family, children, transformation, Anne Hathaway, Roald Dahl