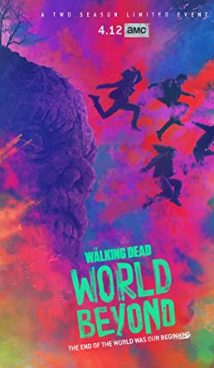 Synopsis
This is the new TV-series from the ever-expanding universe of The Walking Dead. The new TV-series plot will tell us about a group of teenagers who are growing up in the post-zombie apocalypse era. They are the first generation to be born in the new world. Some will become villains, others will be heroes, but this world will completely change them because they are the future of humankind.
Interesting Facts
The coronavirus pandemic made the showrunners change the schedule for the Walking Dead universe. The Walking Dead: World Beyond was to be released on April 12, 2020, right after The Walking Dead season finale, which is the main TV-series in this universe. However, due to the pandemic, the final was not completed, and it will be released only on October 4, 2020. The Walking Dead: World Beyond premiere was postponed to this date. The traditional summer release of another spin-off, Fear the Walking Dead, was been moved to October.
Even though in 2019 The Walking Dead comics series was officially finished with the issue 193, the TV-series universe based on the epic is still being developed. In addition to three TV-series, the producers are planning to shoot several full-length movies with Rick Grimes, who mysteriously left The Walking Dead universe in the ninth season. By the way, the showrunners' plan is for The Walking Dead: World Beyond to be a link to these movies.
Initially, two TV-channel ordered two seasons of The Walking Dead: World Beyond simultaneously but due to the coronavirus pandemic, the production of the second season was suspended.
Information
This is an American-made horror TV-series based on the The Walking Dead novel series by Robert Kirkman.
The premiere of the first season will take place on October 4, 2020 on the American channel AMC.
More Like This
The Walking Dead
Fear the Walking Dead
Black Summer