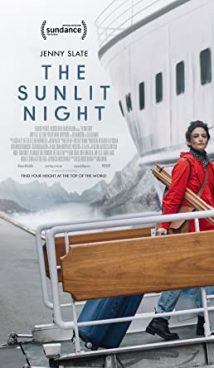 Synopsis
Francis, a New York artist, is living the hard days of her life and is in search of herself. The girl decides to go to the Lofoten Islands in the Arctic to paint the outbuildings of local residents. In return, she is provided with a trailer for accommodation with windows showing excellent landscapes – this is how the artist tries to find her inspiration. Soon, Francis meets Yasha, an emigrant who grieves the loss of his father. He came here to bury his father in Norwegian lands. Two people who are in search of themselves have met to kindle a fire in each other's hearts.
Interesting Facts
The Sunlit Night is an adaptation of the same-name novel by Rebecca Dinerstein Knight. Although Rebecca lives in New Hampshire, her soul lies with Norway. She is also well known as the author of Lofotena, a famous poetry collection. Rebecca adapted her own novel for the adaptation.
The Sunlit Night has come a long way before being made available to the general public. The film was premiered on January 26, 2019 at the Sundance International Film Festival. Only 18 months later, bypassing cinemas, the film became available for viewing through streaming services. In some countries, the movie is available on the "Google play" service.
Jenny Slate, the actress starring the artist Frances, rarely appears in films. Most often she works on voicing cartoon characters. Her voice is familiar to those who have watched the popular animated series – Star vs. the Forces of Evil, Bob's Burgers, Adventure Time. Jenny also voiced Miss Barashkis, the main villain in The Zootopia and Spitz Gidget in The Secret Life of Pets. It is noteworthy that Jenny Slate is a member of The Sunlit Night production line.
About
The Sunlit Night is a Norwegian-German film based on the romance novel of the same name by Rebecca Dinerstein Knight. The film premiered on January 26, 2019 at the American Sundance Film Festival.
Related Films
Denmark
The Secret: Dare to Dream
Made in Italy