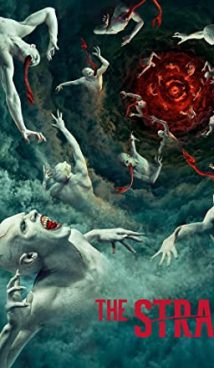 Synopsis
One day, a scheduled flight from Germany landed at New York airport. Although everything seems mundane at first glance, the lights are off on board the Boeing, no one leaves the plane. Opening the doors at the direction of the authorities, workers found 200 bodies on board. Nobody knows what happened to these people. However, a series of unusual events continues with the fact that corpses are disappearing from the morgue.
Thus, begins a spooky story in which the brutal European Strigoi vampires conquer New York. The time of humans as a species is coming to an end…
Interesting Facts
The first episode of the TV series was premiered on July 13, 2014 on the FX American TV channel. Renewed annually, "The Strain" was canceled after its fourth season with the final episode released on March 9, 2018.
The TV show's plot is based on a series of co-authored novels written by Guillermo del Toro and Chuck Hogan. Willing to shoot a multi-part show about vampires but without idea of where to get money for production, Guillermo del Toro decided to write novels with the help of the writer Chuck Hogan to earn money in this way. Having put The Strain into production, Guillermo took Hogan as co-producer.
Ramin Djawadi, who wrote the main theme for "The Strain", is also known as the composer of "Game of Thrones", the cult TV series.
John Hurt, a wonderful actor, played the role of the elderly vampire hunter Abraham Setrakian in the pilot episode of the TV show. Unfortunately, Hurt had to withdraw from further participation in the television series. Since David Bradley became the new performer for the role of Setrakian, all scenes were re-shot.
Although, according to the plot of the literary source, Strigoi vampires are deprived of the ability to communicate verbally and can only transmit their thoughts telepathically, del Toro let them speak in the TV series in order to facilitate filming and "not throw away the talents of the actors".
About
The Strain is an American-made TV series based on the horror trilogy by Guillermo del Toro and Chuck Hogan. The first season was premiered on July 13, 2014 on FX.
Related Shows
Wayward Pines
Outcast
Penny Dreadful: City of Angels
Sleepy Hollow
Helix
Tags: horror, drama, fantasy, vampires, apocalypse, thriller, fantasy