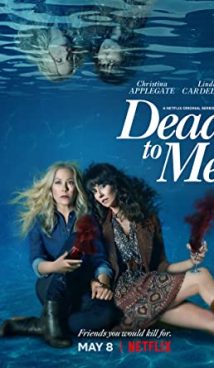 Synopsis
Jen (Christina Applegate) survived the tragic death of her husband and does not want to hide her pain. However, raising two children with a complex character, she has to pull herself together. At one of the meetings where people who have lost their loved ones gather, the main character met Judy (Linda Cardellini), who becomes the widow's best friend. Jen does not suspect that their acquaintance is not at all an accident.
In Dead to Me new episodes, the girlfriends will have to cope with the problems that took place in the final episode of the first season. Although life doesn't get easier, Jen and Julie are starting to discover new joyful moments.
Interesting Facts
A real highlight of the series, actress Christina Applegate has rarely appeared on screens in the past 10 years, so Dead to Me is a great opportunity for her triumphant comeback. For her role as Jen, she was nominated to Golden Globe and Emmy awards – but lost to Phoebe Waller-Bridge in both nominations. The role of the widow turned out to be so believable for Christina that after filming she had to consult a psychologist.
One of the producers of Dead to Me is Will Ferrell, a comedian. It is interesting to know that both Christina Applegate and Linda Cardellini previously starred in films with Ferrell where they played his love interest.
Linda Cardellini and James Marsden previously played characters the Marvel comic book. In the very first X-Men trilogy James was Cyclops,  and Linda was Hawkeye's wife in MCU. Marsden will star in the film adaptation of Stephen King's The stand, a potential blockbuster TV series for the upcoming winter season.
About
Dead to Me is an American tragicomedy TV series. The premiere of the second season took place on May 8, 2020 on the Netflix platform.
F.A.Q.
Q: What channel is this show on?
A: All seasons of Dead to Me were filmed for Netflix streaming platform.
Q: Will this series be renewed?
A: Dead to Me has been renewed for a third season that is the final.
Related Shows
Good Girls
Killing Eve
How to Get Away with Murder