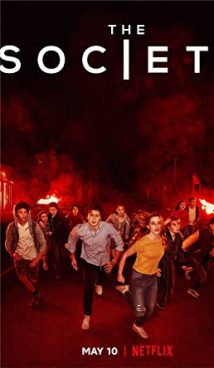 Synopsis
One day, all adults disappear from a small American town. The only inhabitants of West Ham who strangely find themselves in the middle of the wild forests are teenagers. Of course, it all starts with a global day of disobedience, which leads to bloody showdowns.
Ultimately, adolescents are forced to create a new society. But which path will the new leaders of the city take? Will everyone agree with the new leadership?
Interesting Facts
The first season of The Society appeared on the Netflix streaming service on the same day, May 10, 2019. Two months later, The Society was renewed for the second season. However, due to the pandemic, the production of the sequel was frozen. In August 2019, Netflix's management announced that it stopped the shooting and canceled the second season of the series.
One of the authors of The Community is director Mark Webb, who shot the super-popular 500 Days of Summer in 2009. Since then, Mark has directed several films, including the Spider-Man dilogy with Andrew Garfield. In recent years, Webb has been working closely on television. Among his works are the TV-series Limitless, Why Women Kill, and Crazy Ex-Girlfriend. By the way, Webb was not only the producer of The Society but also directed three episodes of the series.
One of the lead roles in The Society is played by a young actress Kathryn Newton, who has been gaining popularity. Viewers may have seen her in Three Billboards Outside Ebbing, Missouri, Lady Bird, and Pokémon: Detective Pikachu. The black comedy Freaky will premiere at the end of 2020, in which Kathryn's heroine swap bodies with the maniac who killed her.
Information
This is an American sci-fi drama TV-series.
The Society premiered on May 10, 2019, on the Netflix streaming platform.
More Like This
13 Reasons Why
Riverdale
Trinkets
Tags: sci-fi, drama, teens, parallel world, Lord of the Flies, Netflix