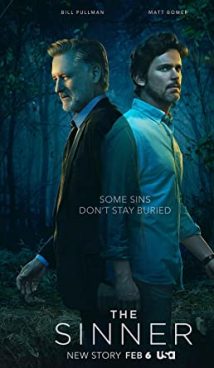 Synopsis
The new chapter of Harry Ambrose's (Bill Pullman) investigations.
In the third season, the detective is investigating a strange car accident. At first glance, everything is clear: two friends were driving a car, crashed into a tree and the driver died. However, this incident haunted Ambrose's mind; something tells him that everything is not so simple. Harry will have to get in touch with the surviving passenger, school teacher Jamie (Matt Bomer), in order to find out what really happened that night on a narrow forest road. Who is Jamie? Is he an injured man or a coldblooded murderer? What was the connection between him and the dead driver? Detective Ambrose will plunge into the past of the school teacher, and during the investigation he will discover something dark in his soul.
Interesting facts
Three seasons of Sinner are some kind of anthology, which connecting link is detective Harry Ambrose. In the first season, he investigated the cause of the murder, completely senseless at first glance, committed by a young mother. In the second one, he tried to understand why an ordinary boy poisoned two adults.
Actress Jessica Biel, who played only in the first season, is a co-producer of the entire project. By the way, in 2019, there was another game series produced by her company Iron Ocean Studios. It is called Limetown, where Jessica Biel, as a journalist, investigates the mysterious disappearance of all the inhabitants of a small town.
Information
The American-made TV series shot in the detective genre.
The third season premiered on February 6, 2020 on the USA Network channel.
You can watch the series trailer online on the website without registration. You can also find interesting facts about the series and find out the release date in Russia.
FAQ
What channel is producing the series?
All three seasons were televised on the USA Network channel.
Sinner officially received an extension for the fourth season.
Related Series
You
Unbelievable
White Collar
Tags: detective, crime, policeman, murder investigation, psychological thriller