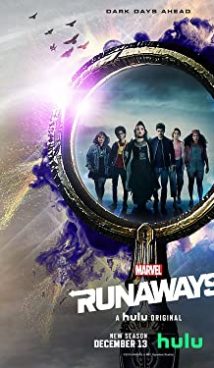 TV-14
01 hours 00 minutes
Synopsis
Six teenagers with very complex characters, whose families have been friends for years, accidentally find out what really keeps their parents together: they all are a part of a supervillain team called Pride. United against their will, the teens steal artifacts belonging to their parents and escape. They have to learn a lot more about their families and themselves: some have a superpower, some can do some magic, and some is an alien from outer space. A team of ragtag teenagers challenges their parents.
Interesting Facts
The first episode of Runaways was shown by the American channel Hulu on October 6, 2017. The TV-series aired daily and then was renewed for two more seasons. The second season came out on December 21, 2018, the third one was shown a year later. Before the premiere of the third season, we learned that the adventures of gifted adolescents would finish there: the Marvel film studio wanted to create its own television universe from scratch and closed all previous TV-series.
There was another TV-series about teenagers with superpowers that came out alongside Runaways — Cloak & Dagger — that told about a very different young man and a girl who strengthened each other with their abilities. The writers even organized a crossover of two TV-series: the characters of Cloak & Dagger appeared in the seventh and eighth episodes of the last season of Runaways.
It is interesting that in 2016 another series about a young team of superheroes from Marvel called New Warriors was in development. The new TV-series was supposed to have such entertaining characters as Squirrel Girl, Mister Immortal, Microbe, and others. However, in 2019 work on the new comic series was discontinued.
Information
This is an American fantasy TV-series based on the Marvel comics.
The first season of Runaways premiered on October 6, 2017, on Hulu.
More Like This
Cloak & Dagger
Gifted
Legion
Defenders
Tags: comic, superpowers, teens, kids and parents, fantasy, marvel, superpowers, drama, villains