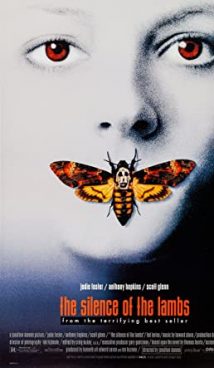 Synopsis
The Silence of the Lambs is a classic crime thriller, one of the most important films of the 1990s, consistently at the top of the list of the best films in history.
To find a serial killer nicknamed Buffalo Bill, the FBI turns to Hannibal Lecter, a brilliant psychiatrist who is part-time people eater. Contained in an isolated cell of a psychiatric hospital, he one day meets with a young agent, Clarice Starling. Although Lecter is ready to provide assistance in capturing the maniac, in return his perverse mind will begin a cruel psychological game with the girl.
Interesting Facts
The film was first presented to the public on January 31, 1991 at a special screening in New York. The movie's world premiere took place in February of that year.
Winner of more than fifty film awards, "The Silence of the Lambs" hit five Oscars, one Golden Globe, two BAFTA awards, as well as the Silver Bear at the Berlin International Film Festival.
Over the past three decades, Hannibal Lecter's character has been played by four actors – Brian Cox in "Manhunter" (1986), Anthony Hopkins in "The Silence of the Lambs", "Hannibal" and "The Red Dragon", French actor Gaspard Ulliel in "Hannibal Rising" (2007) and Danish actor Mads Mikkelsen in "Hannibal" TV series. Although the TV show was canceled in 2015, Brian Fuller, its creator, is still hoping to film a new season.
"Clarice" TV Series, the serial sequel to "The Silence of the Lambs", will premiere on February 11, 2021. According to TV show title, it is dedicated to Clarice Starling, an FBI agent. Rebecca Breeds, familiar to viewers from the "Pretty Little Liars" and "The Originals" TV shows, is the lead actress. Dedicated to the investigations of Clarice Starling, the TV series' plot depicts events that took place a year after the action of the original film. It is not known for certain whether Hannibal Lecter himself will appear in this TV series.
About
The Silence of the Lambs is an American-made crime thriller film based on the novel of the same name by Thomas Harris. The movie was released on January 31, 1991.
Related Films
Hannibal
The Red Dragon
Hannibal Rising
Manhunt
Tags: thriller, crime, drama, investigation, FBI, serial killer, psychological thriller, Anthony Hopkins, Jodie Foster, Hannibal Lecter