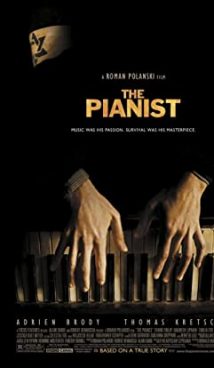 English, German, Russian

8.5
Synopsis
The tragedy of European history is shown to the viewers in one of the most famous films about the Holocaust — the drama The Pianist by Roman Polanski. Based on real-life events, the film tells the story of Polish musician Wladyslaw Szpilman. During the German occupation, Szpilman, being a Jew, ended up in the Warsaw ghetto. Miraculously escaping the concentration camp, Wladyslaw remained in Warsaw, hiding from the Jewish police, managing to live in these conditions until the liberation of the Soviet troops.
Interesting Facts
Roman Polanski presented his film The Pianist on May 24, 2002, at the Cannes International Film Festival and was awarded the Palme d'Or. The film went through a dozen film festivals, earning more than fifty awards, and in the spring of 2003, it got three Oscars — for the script, directing, and the Best Actor. Adrien Brody managed to bypass such Hollywood idols as Michael Caine, Daniel Day-Lewis, and Jack Nicholson. By the way, Brody is still considered the youngest winner of the award — he got this Oscar at the age of 29.
Even though Adrien Brody learned to play the piano, the musical parts in the film are performed by the Polish pianist Janusz Olejniczak. He is not a stranger to acting in films: in 1991, he played Frederic Chopin in Andrzej Zulawski's La note bleue.
Seven years after the release of the film The Pianist, the Israeli national memorial Yad Vashem recognized Wilhelm Hosenfeld as Righteous Among the World, alas, posthumously.
Information
This is a co-production biographical drama film based on the memoirs of Wladyslaw Szpilman.
The world premiere of The Pianist took place on May 24, 2002, at the Cannes Film Festival.
More Like This
Schindler's List
Life is Beautiful
Saving Private Ryan
Tags: drama, biography, music, Holocaust, World War II, Poland, Adrien Brody, Roman Polanski