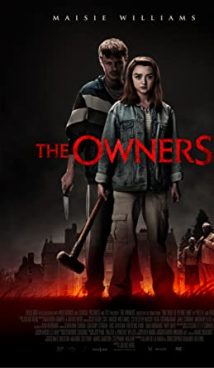 English

N/A

United Kingdom
Synopsis
The main actions of The Owners take place in the British outback. Gas, a sociopath who is one of the main characters, persuades Nathan and Terry to rob the house of Huggins, a local elderly doctor. Although Mary (Maisie Williams), Nathan's girlfriend, tries to dissuade her boyfriend from this, nevertheless, she soon becomes involved in the crime. The conspirators enter the house, take the doctor and his wife prisoner, but their seemingly thoughtful plan is failing. A dangerous game begins in which young robbers cease to be hunters.
Interesting Facts
The Owners marks Julius Berg's directorial debut in feature films. He has previously directed several French films including The Crimson Rivers and The Forest.
Maisie Williams, the leading actress, rose to fame thanks to her participation in the all-star cast of The Game of Thrones. Following the release of The Owners, Two Weeks to Live, the British TV series will premiere in which Macy plays a girl who grew up in the wilderness and wants to get out into civilization to catch her father's killers. Filmed in the genre of black comedy, this TV series will be available for viewing from September 2, 2020. Around this time, The New Mutant blockbuster movie starring Williams as She-Wolf will premiere.
Sylvester McCoy, who plays the doctor in whose house the robbers sneaked in, is also known as Doctor Who, the seventh in the series. Viewers who watched the Hobbit trilogy remember him for his role as the wizard Radagast. It is noteworthy that McCoy claimed the role of Bilbo Baggins in The Lord of the Rings legendary epic, but in the end this role went to Ian Holm.
Most of The Owners scenes were filmed in a Victorian mansion in Kent.
In select countries, The Owners will premiere on August 27, 2020.
About
The Owners is a British film based on the "Les Nuits de la pleine lune" by French comics in the thriller genre. The world premiere will take place on September 4, 2020.
Related Films
The New Mutants
The Visit