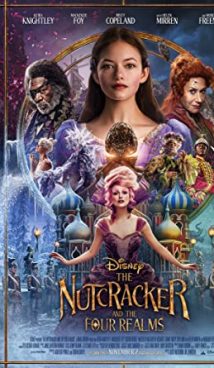 Synopsis
On Christmas Eve, the young lady Klara finds herself in a magical land, which consists of Four Realms. Now, the girl becomes a princess in this country in which her mother was once a queen. Sugar Plum Fairy, who is the regent of the Land of Sweets, accompanies the girl on her journey through the magical world. The fairy shows Clara also the Land of Snowflakes and Land of Flowers, complaining that the regent of the fourth part of this world – Mother Ginger – poses a danger to the entire magical land. Now, being a real princess, Clara must solve all the mysteries of this amazing beautiful place.
Interesting Facts
"The Nutcracker and the Four Realms" film was first shown to the public on October 29, 2018 in Los Angeles, and from that day the film began its wide distribution worldwide. The digital release of the movie took place at the end of winter 2019.
The film is not only based on Hoffmann's story "The Nutcracker and the Mouse King", but also inspired by the ballet of Piotr Tchaikovsky. Throughout the film, great classical compositions are played, and a third of the cast are ballet dancers. The "Fall on Me" song, played during the credits show, was recorded by Andrea Bocelli, the great tenor, who performed it in a duet with his son.
Mackenzie Foy, a young actress, starred in the film. Despite her age, she has already appeared in several blockbusters – in two films "Twilight" franchise and "Interstellar" by Nolan. She also became a star in the next film adaptation of Black Handsome, which will premiere in the near future.
About
The Nutcracker and the Four Realms is a Canadian-American film based on Hoffmann's fairy tale and Tchaikovsky's fantasy ballet. The world premiere of the movie took place on October 29, 2018.
Related Films
Mary Poppins Returns
Beauty and the Beast
The Nutcracker in 3D
Tags: Hoffman, Nutcracker, fairyland, Keira Knightley