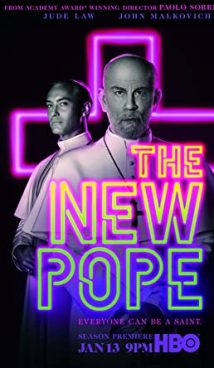 TV-MA
01 hours 00 minutes
Synopsis
The sequiel of Paolo Sorrentino series about the Pope released in 2016.
While Pope Pio XII (Jude Law) is in a coma, Vatican decided to appoint a new Pope (John Malkovich) and with this decision, begins a new circle of scheming and controversy. This 'Game of Thrones'-style series featuring varied Vatican interiors and thoughts on faith and religious authorities, is one of the most anticipated film projects of the year. A spectacular show with brilliant American and European actors, bold direction, impressive cinematography and views of the Vatican and Italy. This series has to be on top of your Must Watch list.
Interesting facts
– The creator of the series is Paolo Sorrentino, one of the most important contemporary italian directors. He won an Oscar in 2014 for his masterpiece called 'The Great Beauty'
– The provocative singer Marilyn Manson is starring in one of the episodes as himself
– Nuns from the opening titles are dancing inside Saint George Monastery in Venice
Information
An Italo-American drama television series, a sequel to 'The Young Pope.'
It was premiered on January 10, 2020 on Italian Sky Atlantic.
You can watch the series trailer online on our website without registering. You can also find interesting facts about the series and its release date.
FAQ
Which TV-channel releases the series?
It was first released in Italy on Sky Atlantic and then in U.S.A. on HBO Channel.
Will there be any new seasons?
Paolo Sorrentino hasn't yet revealed that information.
Where did the series take place?
The series was filmed in Vatican City and in Italy. It was also filmed in Milan and Venice.
More like this
The Young Pope
Suburra
Broken
Tags: drama, religion, Pope, Rome, Italy, Vatican, Venice, Paolo Sorrentino, Jude Law, John Malkovich