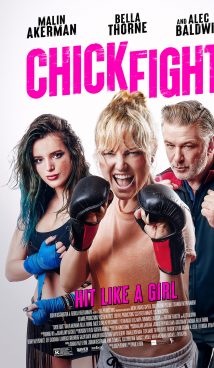 Synopsis
In the life of Anna (Malin Ackerman), everything goes wrong. Having made every effort to open her own coffee shop, she loses it due to a fire. Since the coffee shop was not insured, Anna will not receive compensation – however, she has no money to pay the bills. Anna receives an eviction notice and the police take her car. Moreover, Anna's father makes a coming out. Having barely mastered the storm of emotions, she met with a friend who took her to underground women's fights. Just entered the ring, Anna take a crushing blow to the face. Wanting to take on female underground fights, Anna turns to Jack Murphy (Alec Baldwin), the top coach. After a lot of time and grueling training, Anna becomes a tough fighter.
Interesting Facts
The Chick Fight movie will premiere in the US on November 13, 2020.
Alec Baldwin, a Hollywood veteran, played the role of coach. Having been losing ground for a long time, this famous actor appears in interesting film projects from time to time. Soon he will play one of the main roles in the "Dr.Death" television series telling the story of a doctor who repeatedly violated the Hippocratic oath. Based on the hugely popular podcast, this TV show also features Jamie Dornan and Christian Slater in its all-star cast. "Dr.Death" television series will premiere in 2021. Baldwin will also play the role of Enzo Ferrari in the film "Lamborghini", which tells the life story of the founders of Italian auto companies.
Malin Ackerman, the female lead, is of Swedish origin. When Malin was still a child, her family moved to Canada, and 17 years later, the girl began her acting career. Having starred in many films and television series, she just can't find her way to Hollywood Olympus.
About
The Chick Fight is an American-made action comedy film. The world premiere of the movie will take place on November 13, 2020.
Related Films
Million Dollar Baby
Shine
Guns Akimbo
Eurovision Song Contest: The Story of Fire Saga
Tags: female fighting without rules, comedy, action, sports comedy, Malin Ackerman, Alec Baldwin, Bella Thorne