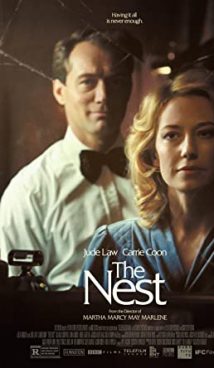 Synopsis
Businessman Rory decides to move his family to his historic homeland in Britain. At first glance, the idea is not so bad: the family now has a luxurious estate amid beautiful meadows, and life seems wonderful. But is everything so good? Maybe this move is just an attempt to deceive oneself and in fact, the wonderful future will turn into a cruel drama?
Did You Know?
The Nest was first introduced to the public at the Sundance Film Festival on January 26, 2020. Then, after going through several more film screenings, the movie received its release in the United States on September 18, 2020 in streaming services.
Interestingly, the actors who played the leading roles in The Nest appeared in the MCU as villains. Carrie Koon was Proxima Midnight in Avengers: Infinity War, and Jude Law played the role of Yon-Rogg in Captain Marvel.
Simultaneously with The Nest, The Third Day premiered, starring Jude Law. The TV show was originally supposed to be released in the spring of 2020, but due to the coronavirus epidemic, the release was delayed by six months. Critics call The Third Day one of the best TV series of the year. In 2021, we will see Jude in the sequels of the famous franchises – Sherlock Holmes and Fantastic Beasts.
The Nest was directed by Sean Durkin, who directed Martha Marcy May Marlene in 2011, which became a sensation in the art film world and introduced Elizabeth Olsen to the world. The fame of the former debutante now greatly exceeds the faded popularity of her older sisters – Mary-Kate and Ashley.
Information
A British-Canadian co-production film in the genre of drama. The world premiere of The Nest took place on January 26, 2020 at the Sundance Film Festival.
More Like This
Revolutionary Road
The Rhythm Section
Tags: 1980s, Husband-Wife Relationship, New Home, Step Daughter, Drama