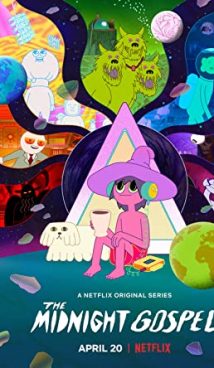 Synopsis
Clancy, a podcast creator, is the main character of this surreal and quite adult animated series, who likes to travel over cartoon world in the form of different avatars and to interview the inhabitants of different worlds. The worlds are dying and Clancy asks aborigines, "What does death look like to you?" The Midnight Gospel is a very philosophical animated series in spite of its genre. Its aim is to rise and think about quite important and tough questions instead of fun.
Interesting facts
You may know Pendleton Ward, the creator of The Midnight Gospel, through significant animated series Adventure Time. Both animations include psychedelic aesthetic, but The Midnight Gospel is more serious and mature.
The animated series came into the world in the form of reanalyzed podcast episodes of comedian Duncan Trussell, who is the one of The Midnight Gospel creators and who voiced the main character Clancy. By the way, many actors who voiced this animated series are podcasters and comedians.
The Midnight Gospel premiered on April 20 in a big day for marijuana lovers (4/20).
Information
The American-made animated series is shot in the black comedy genre.
The first season premiered on April 20, 2020.
FAQ
What channel is producing the series?
The Midnight Gospel was shot by order of Netflix platform.
The Midnight Gospel creator keeps quite on the series possible renewal.
Related Series
Adventure Time
Rick and Morty
Gravity Falls