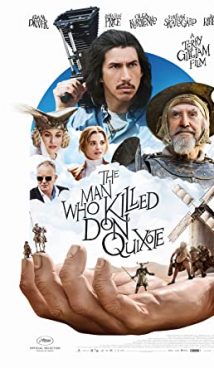 Not Rated
02 hours 12 minutes
Synopsis
Advertiser Toby decides to return to those locations where he once filmed the adaptation of the great novel by Cervantes. Arriving at the place, he realized that the shooting ten years ago had changed the life of this wonderful Spanish village, and the local resident – who also played the main character in the adaptation – was moved by his mind. Now, he considers himself not the shoemaker Javier, but the real Don Quixote.
Interesting Facts
"The Man Who Killed Don Quixote" film was presented to the public on May 19, 2018 at the 71st Cannes International Film Festival. The film became available for viewing on streaming services in the winter of 2019.
"The Man Who Killed Don Quixote" has every chance to get into the textbooks of cinema as a film that has been looking for its way to the audience for a very long time. Originally conceived by Terry Gilliam back in 1989 as a film adaptation of Cervantes' classic novel, the plot of the motion picture has constantly mutated. Rewritten plot includes time travel, modern characters, and also combine surrealism and postmodernism. The filming, which began in 2000, was stopped after a while, and Gilliam switched to work on other projects. Gilliam announced the resumption of the project a decade later, and filming was restarted in 2017. Shortly before the movie premiere, a new scandal took place – Paulo Branco, the Portuguese producer who sponsored the shooting of the film, was suing Gilliam for the rights to the motion picture. Despite the fact that the director lost the court case, nevertheless released project became the closing film of the 2018 Cannes Film Festival.
Since the development of this film took about 30 years, it could have starred Sean Connery, Danny DeVito, Robin Williams, Johnny Depp, Jean Rochefort, Ewan McGregor and Jack O'Connell.
About
The Man Who Killed Don Quixote is a European co-production adventure fantasy film with a world premiere on May 19, 2018 at the Cannes International Film Festival.
Related Films
The Brothers Grimm
Tideland
The Imaginarium of Doctor Parnassus
Tags: Spain, freestyle, comedy, adventure, Terry Gilliam, Adam Driver