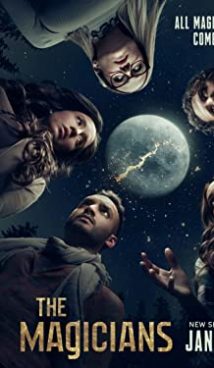 TV-14
01 hours 00 minutes
Synopsis
Plot
As we already knew, there is magic in our world, but it is not visible to everyone, but only to those who can control it. "The Magicians" is a new, slightly more perverse and insane version of "Harry Potter."
After one of the main characters died in the finale of the fourth season, the magician friends have to cope with their grief. Meanwhile, all the worlds of our multiverse are in danger again, and our heroes have to wipe away their tears, forget strives and return to their completely insane adventures in the hope of saving the galaxy.
Interesting Facts
– "The Wizards" showrunner Sera Gamble previously worked on another magical series, "Supernatural." That long-running saga — just like "The Magicians" — will come to an end this year. Now Gamble is a producer for another successful Netflix's TV-series, "You," about a cute psycho killer. "You" is only at the beginning of its path, and we will see the third season of the TV-series in 2021.
– Even though "The Magicians" is based on the novel series of the same name, only the first season follows the plot of its literary basis. Then it changes completely. Marina and Kady's characters were created only for the TV-series.
– In each episode opening, there is a wall with graffiti on it that shows what is happening in the series. The graffitis are painted on top of each other, and at the beginning of the fourth season, the entire wall has just one color. It is a hint that all the main characters have their memories wiped.
Information
This is an American fantasy drama TV-series based on the novel series of the same name by Lev Grossman.
The premiere of the Season 5 took place on January 15, 2020 on SyFy channel.
FAQ
– What channel is behind the TV-series production?
All five seasons were filmed for SyFy channel.
– Will there be a continuation?
No. Season 5 is the last season of this TV-series.
More Like This
Supernatural
Chilling Adventures of Sabrina
A Discovery of Witches
The Umbrella Academy