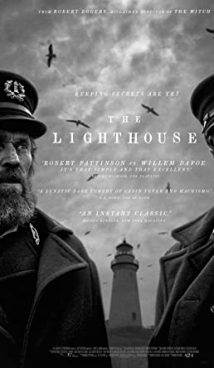 Synopsis
The end of the 19th century. Ephraim Winslow (Robert Pattinson) comes to a small island in New England for a few weeks to work as an assistant of a lighthouse keeper Thomas Wake (Willem Dafoe). Ephraim is burdened not only with hard work, but also with a very gloomy atmosphere at the lighthouse. Soon after, Ephraim finds out that the previous assistant lost his mind and died. Mermaids and all devilishness begin to appear to Ephraim, and he begins to understand that not everything is in order with his mind; and this is just the beginning…
Interesting facts
Initially, The Lighthouse was conceived as a film adaptation of the similarly-named unfinished story by Edgar Allan Poe; however, when writing the script, Robert Eggers completely got off the storyline.
The Lighthouse was completely filmed in New Scotland, Canada. The lighthouse that was in a movie is located there in Cape Forchu.
The film was nominated for an Academy Award for camera work, but lost to the military drama 1917.
Robert Eggers, the film director, is currently working on a drama about Vikings titled The Northman with Anya Taylor-Joy, Alexander Skarsgård and Nicole Kidman.
 Information
The Canadian and American film is shot in the horror genre.
The film premiered on May 19, 2019 at the Cannes Film Festival.
You can watch the movie trailer online on the website without registering. You can also find interesting facts about the film and find out the release date in Russia.
FAQ
Where can I watch the movie?
The film is available on several streaming platforms as follows: Okko, ivi and Apple TV Plus.
Related Movies
Midsommar
The VVitch: A New-England Folktale
The Babadook