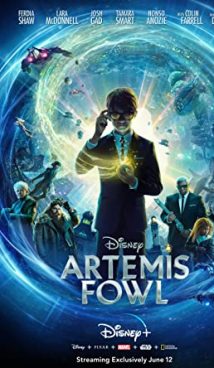 Synopsis
Young Artemis Fowl II, living in a luxurious mansion in Ireland, is shocked by several strange discoveries. First, his father, Artemis Fowl I, is internationally wanted on charges of organizing robberies. Secondly, the family's butler reveals a secret to the younger Artemis: our world is much larger and more diverse than the boy had previously imagined. Numerous fantastic creatures live underground: elves, ogres, centaurs, dwarfs, pixies and others. And if some of them treat people with respect, others hate humanity and want to destroy it. Artemis turns to these creatures for help, but can he make a deal with those who are hiding from people?
Did You Know?
The film is based on the Artemis Fowl novel series by Eoin Colfer. The cycle includes eight novels translated into dozens of languages. In addition, the series includes a graphic novel based on the first books.
Film adaptation of books began in 2001, when the first novel was published. Eoin Colfer believed that Asa Butterfield, who has now grown up and starred in films and TV shows, would be the ideal performer of the main character. But in the end, the role of Artemis Fowl was played by the unknown actor Ferdia Shaw, for whom the film became the first in his career.
After many years of postponements and cancellations, in 2017 Disney set a new date for the premiere of the film – August 8, 2019, but the release did not happen on that day either. Artemis Fowl has been pushed back to May 2020. By this time, the coronavirus pandemic had begun, and Disney decided to move the premiere to streaming services. On June 12, 2020, the film was released on Disney +.
Information
American-made film based on the fantasy series by Eoin Colfer. The world premiere of Artemis Fowl took place on June 12, 2020 via the Disney+ streaming service.
More Like This
Maleficent: Mistress of Evil
Percy Jackson & the Olympians: The Lightning Thief
Dolittle
Tags: Fantasy, Magical Creatures, Crime, Investigation, Family Secrets, Film Adaptation