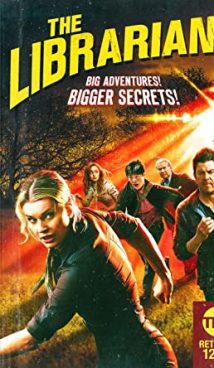 Synopsis
Imagine some kind of animated Library capable of great things – it organizes itself, protects magical artifacts, and sometimes calls on not very ordinary people to help itself. This time, the Library gathered a very motley audience – a former operative, an extra-class thief, an art genius and a woman mathematician with psychic abilities. From that moment on, they became librarians whose duties include guarding magical items, protecting the world, and fighting a variety of villains.
Interesting Facts
The first season of the television series was released on December 7, 2014 on the American TNT channel. Aired over four seasons, the TV show was canceled on February 7, 2018.
"The Librarians" is a multipart spin-off of the "Librarian" trilogy of films released between 2004 and 2008 by TNT. Noah Wyle, the leading actor in the film, played the genius scientist who became the custodian of the Library. Although there can only be one librarian according to the plot of the movies, the TV show changes this concept by allowing the Library to recruit a whole team of magical lore defenders. Notably, Noah Wyle also plays a recurring role on TV shows (as new librarians need a mentor). Wyle is also a TV series producer.
Three novels about the adventures of librarians were released following the TV series. Greg Cox, a novelist specializing in film franchises, is the author of these novels. He also wrote several novels based on the "Star Trek" and "Underworld" film series.
About
The Librarians is an American-made adventure fiction television series, a spin-off for the Librarian TV movies. The first season of the TV show was premiered on December 7, 2014 on TNT TV channel.
Related Shows
Warehouse 13
Sleepy Hollow
Eureka
Stitchers
Grimm
Psych
Tags: adventure, fantasy, magic, comedy, spin-off, Rebecca Romijn