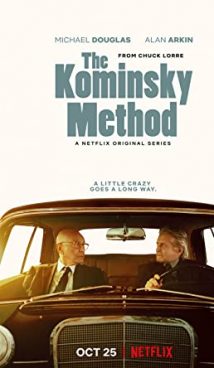 Synopsis
Two Hollywood grandsires Michael Douglas and Alan Arkin generously present us the excellent tragicomedy with them in lead roles – "The Kominsky Method" TV series.
Michael Douglas plays a Hollywood actor Sandy Kominsky, not the luckiest in his field though. Now Sandy is an acting coach at his studio named after himself 'The Kominsky Method'. His best friend Norman is a Hollywood agent who struggles with the pain after his wife's death and a drug addicted daughter. Still, Norman and Sandy support each other in a very cynical way, they are joking and taunting all the time about each other's advanced age and upcoming death, and it is the black humor that helps them to live on.
As you might guess, "The Kominsky Method" TV series describes the relationship between old and new Hollywood generations with a touch of bittersweet irony and constant references to the film industry.
Trivia
The series "The Kominsky Method" was filmed for the 'Netflix' streaming service. The entire first season was released on November 16, 2018 and became an instant hit. Two months later, Netflix announced that they start working on the second season. The new episodes hit the streaming platform on October 25, 2019. The third season of "The Kominsky Method" TV series, which is likely to be released in 2021, will be the final one.
The author of the series is Chuck Lorre, the creator of the cult TV shows "Grace under Fire", "Two and a Half Men", "The Big Bang Theory", and the others. By the way, on April 1, 2021, new TV series "United States of Al" created by Chuck Lorre will be premiere on 'CBS' channel. The plot of this sitcom focuses on the relationship between Awalmir (Al), a newly-arrived emigrant from Afghanistan, and Riley, a Marine combat veteran who was fighting in the Middle East.
About
American-made television series, filmed in the genre of tragicomedy. The first season of The Kominsky Method premiered on November 16, 2018 on the streaming service 'Netflix'.
Related TV Series
Barry
After Life
Russian Doll
Living with Yourself
Dead to Me
Tags: comedy, drama, master acting, Hollywood, satire, Michael Douglas, Alan Arkin