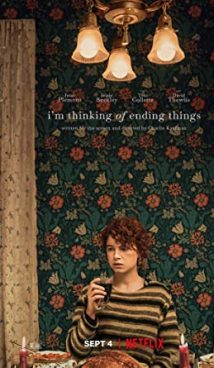 Synopsis
Cindy is considering breaking up with Jake, her boyfriend. As she hesitates to tell him of her decision, the unsuspecting Jake invites her to meet his parents. Cindy gives her consent and the couple goes to a farm where a series of unexplained events takes place. Cindy does not understand what is happening and where it may lead her.
Interesting Facts
I'm Thinking of Ending Things is the third work of Charlie Kaufman, a filmmaker who became famous for his screenplay for The Eternal Sunshine of the Spotless Mind, a film that has become iconic. He made his directorial debut in 2008 with the release of "The Synecdoche, New York", a bizarre and controversial picture that not everyone understood. Notably, Kaufman is also the screenwriter for The Chaos Walking young adult TV series adaptation which has already been shot in full but has yet to be premiered.
Jessie Buckley, the leading actress, replaced Brie Larson, an actress who was initially seen as a candidate for the lead role.
Jessie has come a long and winding path before becoming a famous actress. She appeared on "I'd Do Anything", a UK talent show, where she came in second. Buckley was a theater actress for a long time before being offered roles in popular television series. In 2016, she played Mary Bolkonskaya in The War and Peace TV show. She then became a star in The Taboo alongside Tom Hardy and also starred in The Chernobyl, one of the most popular television series of 2019. The actress was nominated twice for a BAFTA.
Jesse Plemons, who played Jake, is the Kristen Dunst husband. The actors began dating after filming together in the "Fargo" TV series in which they played a married couple. Many of the "I'm Thinking of Ending Things" cast were also part of the all-star "Fargo" cast, the anthology television series. Plemons starred in the season 2, David Thewlis was cast in the season 3. As for Jesse Buckley, viewers will be able to see her on TV this fall when the fourth season premieres.
About
"I'm Thinking of Ending Things" is an American-made film, adaptation of the Ian Reid novel of the same name. The world premiere is scheduled for September 6, 2020 on Netflix streaming service.
Related Films
Adaptation
The Synecdoche, New York
Anomalisa
The Eternal Sunshine of the Spotless Mind