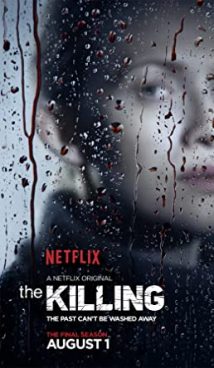 Synopsis
Sarah Linden, a Seattle detective, quits her job at the local police department and is about to leave for hot California – however, fate has a different opinion about what Sarah should do. On the last day of her service, the detective found herself on the threshold of a large and very complicated case that would delay her for a long time.
Filmed as an American-made remake of the "Forbrydelsen", iconic Danish detective series, "The Killing" grows into a great stand-alone TV show. Featuring exciting and intriguing events, this TV series will have you watching every episode of it.
Interesting Facts
The first episode of the TV series was aired on April 3, 2011 on AMC. The series was renewed for a second season – however, the feasibility of filming a third season was in question. Eventually moved to Netflix, the TV series was canceled on August 1, 2014.
Although the plot of the TV show initial episodes copied the events shown in the Danish TV series "Forbrydelsen", later the American variant creators decided to change even the personality of the criminal, who are following the detectives.
Notably, Sophie Grabøl, the Danish actress who starred in the Danish version of the TV show, appears in the second season of "The Killing".
Actors Mireille Enos and Joel Kinnaman, who played fellow detectives, met again on the set 5 years after "The Killing" finale – in the new TV show "Hanna" they now play characters opposing each other.
About
The Killing is an American-made detective TV series based on a Danish TV show. The first season of The Killing was premiered on April 3, 2011 on the AMC TV channel.
Related
Forbrydelsen
Bridge (Broen)
Broadchurch
The Fall
Luther
The Missing
Tags: drama, detective, thriller, remake, investigation