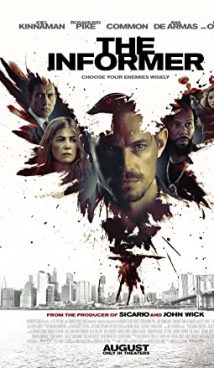 English, Polish, Spanish

6.5
Synopsis
Pete Koslow — an honourably discharged special ops soldier and a reformed criminal — works for a Polish drag gang but secretly feeds information to FBI. After a big drug deal goes wrong, the crime overlord sends him back to a maximum-security prison to spearhead the gang's drug traffic from inside. After Pete realises that the feds are not going to get him out, he starts plotting an escape. Caught in the crossfire between the police, FBI and the mob, he is on his own now.
 Did you know?
Unlike the title character of Three Seconds, Joel Kinnaman — the star of The Informer — is not Pole. He is born and raised in Stockholm but gained recognition in the US for his role in the remake of Swedish TV-series, The Killing.
Detective Grens was played by rapper Common who co-wrote the Oscar-winning song for Selma. Joel Kinnaman and Common were both members of the Suicide Squad
Overview
The Informer is a British crime thriller based on Three Seconds, a Swedish novel by Roslund and Hellström.
The film was released in the UK on August 30, 2019.
Please visit our website to watch The Informer trailer online and check out interesting film trivia and a release date. No signup required.
Frequently asked questions
When did the film have its world premiere?
The Informer was released in the UK on August 30, 2019.
The Informer was mostly filmed in the UK, with one of the locations being the abandoned Gloucester Prison. Some scenes of the film were shot in New York and Philadelphia.
See also
Escape from Pretoria
21 Bridges
Paradise Lost