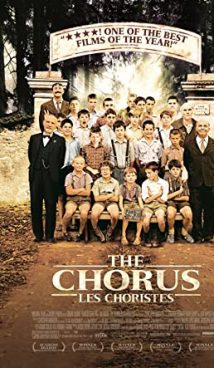 PG-13
01 hours 37 minutes
Synopsis
Post-war Europe, 1949, poverty and unemployment are everywhere. Clément Mathieu, a music teacher, takes a job in a boarding school with very difficult teenagers, who are lonely and angry. The cruel director of the boarding school (the orphanage, by the way, has a very eloquent name The Bottom of the Pond) is not too soft with the students because the man is sure that only with discipline one can manage adolescents.
However, the new teacher Mathieu finds a new path to the hearts of distrustful children, and the music becomes the guide. Clément creates a real choir, which helps the boys cope with their difficult lives.
Interesting Facts
Les choristes premiered in France on March 17, 2014, and then it was released worldwide.
Les choristes became the most popular film of the year in France, and worldwide the picture has grossed more than $80 million. By the way, the actor Gerard Jugnot, thanks to the film (he was paid millions of euros), became the highest-paid actor in 2004 in France, ahead of Jean Reno and Gerard Depardieu.
Les choristes got international recognition and were nominated for two Oscars for Best Soundtrack and Best Film in a Foreign Language, losing, however, to the films The Motorcycle Diaries and The Sea Inside, respectively. It is interesting that the film La cage aux rossignols (whose remake is Les choristes) also did not get the Oscar. This film was nominated for Best Screenplay in 1948.
The role of a boarding school is played by the real Château de Ravel, located in the French region of Auvergne.
The fate of the young actor Jean-Baptiste Maunier, who played the boy Pierre, is interesting. Since childhood, Jean-Baptiste sang in the choir and was supposed to perform the parts for the Les choristes soundtrack. However, the director of the film decided to take him to play the role of the soloist. After the film turned out to be a success, the young man changed his career and became an actor. Since then, Jean-Baptiste has successfully appeared in French films and TV-series.
Information
This is a European musical drama film based on the 1945 French film La cage aux rossignols.
The world premiere of Les choristes took place on March 17, 2004.
More Like This
La cage aux rossignols
The Pianist
The Class
Billy Elliot
Tags: music, drama, France, asylum, music teacher, post-war Europe