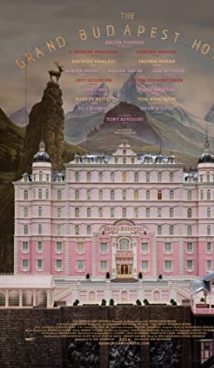 English, French, German

8.1
Synopsis
"Wes Anderson's Film" – these words are enough to fully describe what is happening in "The Grand Budapest Hotel" film. Spectators will find dozens of titled actors, symmetrical shots, brilliant work of artists, costume designers and make-up artists, as well as a plot that cannot keep up with the cast and splendid camera work.
The hotel, located in a certain country called Zubrowka, is the convergence point of different storylines. A young expatriate receptionist Zero Mustafa, who learns the intricacies of the craft under the supervision of the Grand Budapest Senior Concierge Monsieur Gustave, is the center of attention in the movie.
Interesting Facts
"The Grand Budapest Hotel" was first presented to the public at the Berlin Film Festival on February 6, 2014, where it won the Grand Jury Prize. In March 2014, the film was released widely.
Received nine Academy Award nominations, "The Grand Budapest Hotel" hit 4 statuettes for makeup, music, costumes and production.
Both Zubrowka and The Grand Budapest Hotel are fictional. Most of the filming took place in the Saxon town of Görlitz, located on the border of Germany and Poland. Notably, the Gorlitz department store and city baths served as the interior for the fictional hotel.
According to Wes Anderson, the film's creator, the plot is inspired by "Beware of Pity" and "The Post Office Girl", novels by Austrian writer Stefan Zweig.
About
The Grand Budapest Hotel is an American-German co-production crime comedy movie based on the stories by Stefan Zweig. The film premiered on 6 February 2014 at the Berlin Film Festival.
Related Films
Moonrise Kingdom
Fantastic Mr. Fox
The Royal Tenenbaums
The Life Aquatic with Steve Zissou
The Darjeeling Limited
Tags: comedy, adventure, Europe, crime, hotel, receptionist, Rafe Fiennes, Tilda Swinton, Saoirse Ronan, Adrian Brody, Jude Law, Bill Murray, Wes Anderson