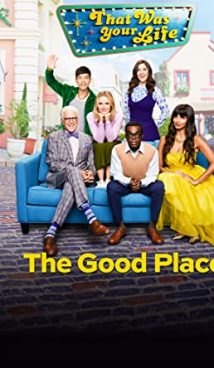 Synopsis
Eleanor (Kristen Bell), the main character on the television series, has always been a bad person. Throughout her life, she cheated, rude and never helped anyone. However, after her death – Eleanor is run over by carts in a supermarket – she finds herself in a strange place, very similar to paradise. She is surrounded by wonderful people (sometimes even too much), the weather is fine, and it seems that a carefree eternal future awaits her. Having begun to suspect that she has accidentally taken place reserved for someone else, Eleanor is afraid to tell anyone about it, especially Michael, the architect of this paradise. As a result, Eleanor turns to Chidi, her neighbor who is a professor of philosophy, for help. She asks him to teach the basics of ethics in order to somehow fit this good place. But soon shocking news awaits the girl…
Interesting Facts
The fourth season of The Good Place philosophical comedy premiered on September 27, 2019 on NBC and ended in January 2020.
It is noteworthy that Jamila Jamil, a British model for glossy magazines and also a writer for The Times and Cosmopolitan, had no acting experience before filming the television series. Moving from London to Los Angeles in 2016, she was offered to try acting for a new television series that needed a British actress. Having decided to go to the casting, Jamila soon received an official offer to play the character of Tahani.
Michael Schur, known for his work on "Parks and Recreation", "The Office" and "Brooklyn Nine-Nine", is the project showrunner.
About
The Good Place is an American-made television series filmed in the fantasy comedy genre. The fourth season premiered on September 27, 2020 on NBC.
Related Shows
Russian Doll
Unbreakable Kimmy Schmidt
Parks and Recreation
Tags: underworld, hell, paradise, purgatory, redemption, philosophy, ethics