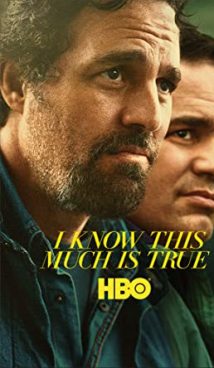 TV-MA
01 hours 00 minutes
Synopsis
This is a dramatic and difficult story about two brothers, Dominick and Thomas Birdsey. Dominick is trying to get on track with his twin, Thomas, who suffers from paranoid schizophrenia. Dominic does his best to help Thomas cope with the disease and even tries to pick him up from the hospital.
First of all, I Know This Much Is True is the benefit of the wonderful actor Mark Ruffalo, who played the role of both brothers at once. Critics predict him the nominations for the Golden Globe and Emmy. Ruffalo is supported by a stunning female cast of the series: Melissa Leo (has one Oscar statuette), Juliette Lewis (was nominated for Oscar award), Rosie O'Donnell (has one Emmy statuette) and Kathryn Hahn (was nominated for Emmy award).
Interesting facts
This series was the first experience for the showrunner Derek Cianfrance in working with a gaming TV show. Prior to that, he was known for the dramas Blue Valentine and The Place Beyond the Pines with Ryan Gosling.
The series is based on thesimilarly-named novel by Wally Lamb. However, despite its popularity in the United States, I Know This Much Is True has not yet been translated into Russian.
The name of the series and the book is a line from the song "True" by Spandau Ballet, the famous new wave music group.
 Information
The American-made TV series is based on the similarly-named novel by Wally Lamb and shot in the drama genre.
The first season premiered on May 11, 2020 on the HBO channel.
You can watch the series trailer online on the website without registration.
 FAQ
What channel is producing the series?
I Know This Much Is True was commissioned by the order of the HBO TV channel.
When did the first season come out in Russia?
The first episode of the season premiered on May 12, 2020 on Amediateka.
I Know This Much Is True was shot as a mini-series and does not involve continuation.
Tags: drama, mental illness, schizophrenia, family, sexual abuse, divorce, twins