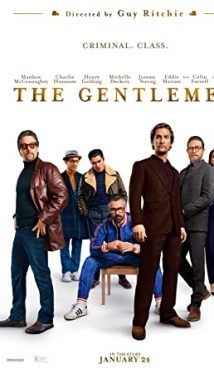 Synopsis
Guy Ritchie is back to home turf with his latest gangster comedy film, The Gentlemen.
The story follows Mickey Pearson (McConaughey), a drug lord who now wants out of the game. Meanwhile, Big Dave (Eddie Marsan) — Daily Print tabloid editor — hires sleazy reporter Fletcher (Hugh Grant) to take a deep dive into Mickey's business dealings. Looking for a bigger slice of the pie, Fletcher starts blackmailing Mickey without realizing how much blood is going to be spilled.
Did you know?
Guy Ritchie did not originally conceive The Gentleman as a movie but a TV series about the US and UK differences.
Kate Beckinsale was originally tapped for the role of Mickey Pearson's wife, Rosalind, but decided not to play it two weeks before the filming began and was replaced by rising star Michelle Dockery.
Renowned musician Sting played in Guy Ritchie's famous Lock, Stock and Two Smoking Barrels. Sting's daughter, Eliot Sumner, portrayed Lora in The Gentleman.
Overview
The Gentlemen is an American-British co-production action comedy film. It had its world premiere as a VIP special screening on December 3, 2019.
Please visit our website to watch The Gentlemen trailer online and check out interesting film trivia and a release date. No signup required.
Frequently asked questions
When did the film have its world premiere?
The Gentlemen had its world premiere as a VIP special screening on December 3, 2019. It was released theatrically on January 1, 2020.
When will the next Guy Ritchie's film will be released?
Guy Ritchie's Cash Truck starring Jason Statham is set to release on January 15, 2021.
See also
Lock, Stock and Two Smoking Barrels
The Irishman
Snatch